2014 news archive
Michael Ball Spring tour 2015!
31/12/2014
Michael Ball has announced the dates for his 'If Everyone Was Listening...' tour this Spring.
Tickets go on sale on Friday 31st October. Click
here
for more details about the tour and
here
for more details about the new album, which is released on November 17th through USM TV.
Michael Ball Tour Dates:
Tuesday 7th April - Bournemouth BIC
Wednesday 8th April - Oxford New Theatre
Thursday 9th April - Ipswich Regent Theatre
Saturday 11th April - London Eventim Apollo
Sunday 12th April - Birmingham Symphony Hall
Tuesday 14th April - Brighton Centre
Thursday 16th April - Nottingham Royal Concert Hall
Saturday 18th April - Manchester Bridgewater Hall
Sunday 19th April - Liverpool Auditorium
Tuesday 21st April - Blackpool Opera House
Thursday 23rd April - York Barbican
Friday 24th April - Newcastle City Hall
Saturday 25th April - Glasgow Clyde Auditorium
Monday 27th April - Sheffield City Hall
Tuesday 28th April - Bristol Colston Hall
Wednesday 29th April - Cardiff St David's Hall
Friday 1st May - Plymouth Pavillions
Saturday 2nd May - Portsmouth Guildhall
Sunday 3rd May - Southampton Mayflower Theatre
---
The Undertones Merchandising store now open + 2015 gig info

31/12/2014
The Undertones announce the opening of their online merchandising store via their website.
You can access it by going to their
website
or you can go directly to the
store
(with link http://the-undertones.tmstor.es/ )
Here are the live shows for 2015 so far, for updates visit their
website
:
JANUARY
24th - Spiegeltent, Dumfries - Scotland
30th - The Button Factory, Dublin - Ireland
MAY
1st - The Assembly Rooms, Leamington Spa - England 2nd - Clapham Grand, London - England 12th - Trabendo, Paris - France
JULY
11th - Corbridge Festival 2015, Tynedale Park, Corbridge, Northumberland - England
---
Frankie Round Table: Inside the Pleasuredome interview

15/12/2014
Super Deluxe Edition interviewed the team behind the Frankie Goes To Hollywood, Inside the Pleasuredome box set, including Steve Bunyan (USM Marketing Director), Ian Peel (Compiler), Philip Marshall (Designer) and Kevin Foakes (Designer). They go into details of how the box set was put together, and the reason for some of the decisions that were made.
To Read the whole interview go to: http://www.superdeluxeedition.com/interview/frankie-round-table-inside-the-pleasuredome-team-talk-to-sde/
---
Ennio Morricone - London O2 - Feb 5th, 2015

10/12/2014
Legendary film-music composer Ennio Morricone has announced that he will play the London O2 on Thursday 5th February 2015
with a 160 member symphony orchestra and polyphonic choir.
Having now fully recovered from a spinal injury, this will be his only UK concert for 2015.
More details and ticket info here
See our Arena Concerto 2CD here
---
Procol Harum in a symphonic spectacular for BBC Radio 2
05/12/2014
For one night only, 'Friday Night Is Music Night' presents Procol Harum in a symphonic spectacular for BBC Radio 2.
Live from the Dominion Theatre in London, with the sixty piece BBC
Concert Orchestra conducted by David Firman and the forty voice CEF Chorus.
BBC link here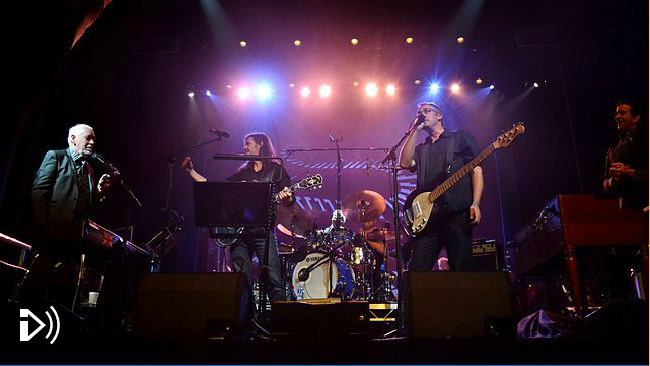 ---
Madness scoop 500k sales award!

27/11/2014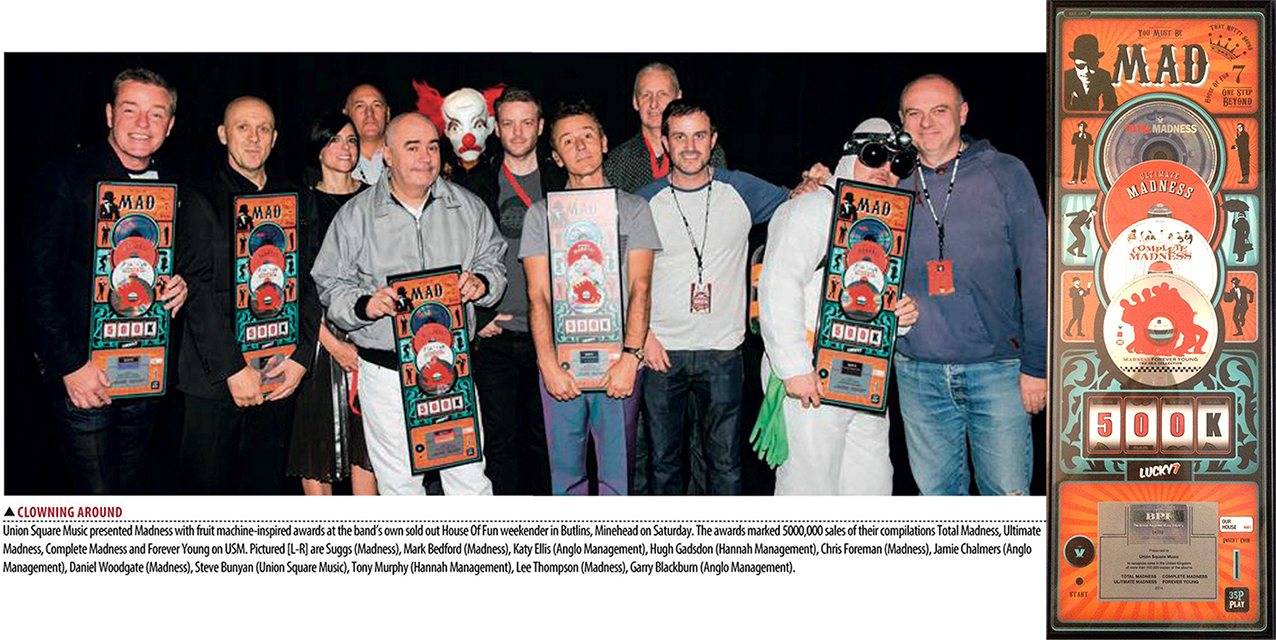 Last Friday night at their annual House Of Fun Weekender, Madness accepted an award from USM for 500k sales of their four compilation albums: Complete Madness, Ultimate Madness, Total Madness and Forever Young. Designed with a fruit machine theme, the awards were presented by Mike Keat from the Cuban Brothers, who also performed over the weekend alongside Madness.
Click here for all of USM's Madness albums and compilations.
---
BMG Acquires Union Square Music

04/11/2014
International music company BMG is pleased to announce it has acquired leading UK record company Union Square Music and its sister music publishing companies Union Square Music Publishing and USM Songs.

The addition of catalogue marketing specialist Union Square, which releases around 150 artist and compilation albums each year, amounts to a significant expansion of BMG's capabilities in the recording business and specifically in catalogue. BMG already has a catalogue of around 300,000 recordings including Sanctuary Records, Mute Records, Strictly Rhythm and Skint/Loaded catalogues, and artists such as The Kinks, Black Sabbath, Jean-Michel Jarre, Depeche Mode and Fatboy Slim. Combining music publishing and recording rights, BMG now represents around two million copyrights in total.

Based on year-to-date album sales compiled by the Official Charts Company, the acquisition of Union Square will double BMG's sales of recordings in the UK and propel BMG to become the UK"s fifth biggest record company.

Founded in 1999 by seasoned record executive Peter Stack, Union Square owns or exclusively licenses rights to artists including Madness, The Undertones, Gilbert O'Sullivan, Sandie Shaw, Nazareth, Marmalade, Michael Crawford, Barbara Dickson, Richard Clayderman, Procol Harum, Kirsty MacColl, the Original Rocky Horror Picture Show, M, and the Belle Stars.

It also represents labels such as ZTT (Frankie Goes To Hollywood, Art Of Noise & Propaganda), Stiff (Tenpole Tudor, Jona Lewie, Tracey Ullman), Peer Music (The Flowerpot Men, First Class), Cuban state-owned label Egrem (Ibrahim Ferrer, Ruben Gonzalez and Compay Segundo), be-bop label Savoy Jazz, Denon Classics, Tappan Zee (home to smooth-jazz king Bob James), Skye Gryphon jazz, as well as its own extensive range of original musical theatre recordings, smooth jazz, world-beats, relaxation music and children's recordings.

Union Square's music publishing interests include the Nazareth catalogue, Russ Ballard ("Since You've Been Gone", "So You Win Again"), Charles Mingus, Swing Out Sister's Corinne Drewery and Andy Connell ("Breakout"), The Farm ("All Together Now") and songs from Syd Barrett, Nick Lowe, Hawkwind, The Damned, Captain Sensible and Eddie & The Hot Rods. USM Songs also represents the Plangent Visions Music catalogue worldwide including The Specials/The Specials AKA ("Ghost Town", "Free Nelson Mandela") and hits such as "Over My Shoulder" (recorded by Mike & The Mechanics) and "Our Lips Are Sealed" (Fun Boy Three, The Go Go's).

Following the acquisition, Union Square founder Peter Stack will continue to run the business from the company's West London base reporting through BMG's UK operation, BMG Chrysalis UK.

BMG CEO Hartwig Masuch said, "This acquisition marks another significant milestone in BMG's development as we seek to achieve similar scale in the recordings business as we already have in music publishing. Peter Stack and the Union Square team have established
an unrivalled reputation in the music industry for their respectful, artist-friendly approach to catalogue marketing and as such are a perfect fit with BMG. We look forward to working with Peter to create an even more significant catalogue business based on delivering value for artists and rights-owners."

Peter Stack said, "The combination of our expertise in marketing and exploitation and BMG's significant catalogues is a win-win deal for BMG, Union Square and all of our artists and licensors. BMG have clearly demonstrated their ambition to grow their recordings business and the addition of their infrastructure and international network will allow us to offer an even better service to artists and labels."

Alexi Cory-Smith, EVP BMG Chrysalis UK, said, "The addition of Union Square means UK will now be home to the vast majority of BMG's worldwide catalogue recordings business. We look forward to welcoming the Union Square team into our UK operation and giving them the tools to build on their outstanding track record of success."
---
Raves for Love Songs

30/10/2014
Salvos' 2 CD collection Love Songs: An Anthology of Arthur Lee's Love 1966-1969, released on 27th October, has been receiving rave reviews:
"Includes (Forever Changes) in full while filleting its predecessors to best portray the band's progress." ***** (FIVE STARS) Andy Gill, The Independent
"Gorgeous two-CD set…a consummate collection of one of the greatest, most fascinating bands of all time." ***** (FIVE STARS) Kris Needs, Shindig!
"Includes (Forever Changes) in full while filleting its predecessors to best portray the band's progress." ***** (FIVE STARS) Andy Gill, The Independent
"Too many outstanding songs to list…it's time to listen in, if you haven't already." ***** (FIVE STARS) Ian Harrison, Q
"Fab, 2-CD chronological overview...a great primer." **** Mojo
The 2 CD compilation includes the best of their albums Love, Da Capo and Four Sail (the last featuring Lee as the only original member), and their masterpiece Forever Changes (featured in the 1st November NME in their 'Anatomy of an Album' profile) in its entirety, as well as a 16 page booklet.
Order yours from amazon.co.uk now, it's out on 27th October
---
Madness Gladness now in Tesco

28/10/2014
Madness's brand new Gladness lager is available from today in selected Tesco stores.
Plug your postcode into the map to find your nearest retailer for all Madness brews here

---
Frankie Goes To Hollywood Box Set ready to ship
Order yours now!

24/10/2014
We would like to announce to all
Frankie Goes To Hollywood
and
ZTT
fans that there will
only be 2000
of the
"Inside The Pleasuredome "
Ultra-Deluxe Box Set manufactured.
As of today over half of these have already been pre-ordered through PledgeMusic, with shipping due to start next week (the week commencing October 27th)
To view all the elements of the boxset, you can watch the unboxing video
here
.
At this time "Inside The Pleasuredome" is only available through PledgeMusic, so to avoid disappointment
click here
and pre-order your copy or you could miss out.
---
Robin Scott Releases New Single

23/10/2014
Robin Scott, the lead singer and founder of the music project called "M", has released a new single called "Rescue Remedy". Robin Scott was the featured interviewed guest on Johnnie Walker Sounds of the Seventies, you can listen to it here (the interview starts at 1:25:10). He also appeared on Chris Evans' breakfast show, which you can listen to here (start at 49:20).
You can purchase the single on iTunes.
For all of Union Square Music's releases of "M" please click here.
---
Busy Ball!
22/10/2014
With only a month to go until the release of Michael Ball's brand new album, If Everyone Was Listening, the man himself has been busy attending awards ceremonies, doing his radio show and serenading cows in aid of the Stars At Your Service 'Stand Up To Cancer' campaign.

In the weeks leading up to the new album's release, look out for Michael on the Alan Titchmarsh show (ITV), BBC Breakfast (BBC1), Sunday Brunch (C4) and Never Mind The Buzzcocks (BBC2).
---
Holly Johnson releases his album 'Europa'

21/10/2014
Holly Johnson released his new album 'Europa' on Monday 29th September, his first in 15 years!
It's available on CD, Deluxe CD, Double Vinyl and Special coloured Double Vinyl Deluxe edition here
:
http://store.hollyjohnson.com/
. A UK tour is announced for October. For more information visit Holly Johnson's
website
or
facebook page
.
View Holly Johnson on Later with Jools Holland on October 17th
here
.
Check
here
for all of Union Square's Frankie Goes To Hollywood releases and for the ultimate Frankie box, don't miss your chance to pre-order
Inside The Pleasuredome
- the 30th anniversary ultra-deluxe box set collection from
Pledge Music
.
---
Chas Smash to release a new album in 2015
---
Upcoming Slade shows

01/10/2014
Slade have announced shows in Russia. Sweden, Denmark, Czech Republic, Skegness (England), Austria, and Belgium. They will also be playing shows in England in 2015. For more information see their facebook page.

For all of Union Square's Slade releases click here.
---
New Michael Ball album!
01/10/2014
We are delighted to announce that Michael Ball will release his latest studio album – If Everyone Was Listening – through USMTV on 17th November.
In the spirit of the eclecticism of his own Radio 2 show, Michael has chosen, arranged and recorded 15 of his very favourite songs: a mix of new and old, classic and contemporary, plus a couple of surprises and a special guest appearance. Watch out for him on various radio and TV appearances throughout the Autumn, including Steve Wright, BBC Breakfast and Strictly Come Dancing… It Takes Two. Click here for more details about the album.
---
Claudia Brücken to release her new album

01/10/2014
Singer and former frontperson of the synthpop bands Propaganda and Act, Claudia Brücken, is releasing a new album Where Else… on October 6th.
You can see the video for the first single from the album, 'Nevermind', here, and you can download it from iTunes and Amazon. For more information about how to pre-order the album please visit her website.
For Union Square's Claudia Brücken releases click here and for Propaganda click here.

---
Gilbert O'Sullivan working on new album

28/09/2014
Gilbert O'Sullivan was in a recording studio last week in Madrid working on his new album. The yet unnamed album will have a Latin feel and he is using Spanish musicians to achieve the desired sound.
For more information please visit his website:
http://www.gilbertosullivan.net/